The Marketing continuum provides a tremendous variation of opportunity for you to ply your special talents. From corporate strategy to advertising, from portfolio planning to merchandizing, from market development to product requirement planning, there is an opportunity for growth for you.
The Story
I met with a recent MBA grad that I found to be brilliant.   This person questioned whether they could sustain the excitement that they felt in their first marketing position over a life long marketing career. My first question was, "why worry about it now?" Just enjoy the position. As we spoke it became apparent that no one had ever laid out the opportunities that the marketing continuum could offer him.
Intent
What this blog will do is define the continuum, explain some stages of the continuum and provide a tip or two about working within the continuum.
Caveat
Before I dive in, it is important to explain that the continuum is drawn left to right. There is not a hierarchy. Every role in marketing is equally important. There are a number of other continuums in the Medical Device Company as well. None are superior to the other. It takes a team to commercialize a medical device.
Marketing Continuum Defined
The marketing continuum is the progression of marketing activities that move from high-level strategy to tactical implementation of the business model. Marketing is the framework in which companies get intentional about their pathway to success.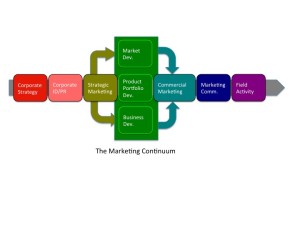 As shown in the figure above there are, about, seven areas of marketing contained within the continuum.
Corporate Strategy
Corporate ID/PR
Strategic marketing
Market development, Product portfolio development, Business development
Commercial marketing
Marketing communications
Field activities
Corporate Strategy is included in the marketing continuum because to develop strong corporate wide strategies many of the areas of expertise that marketers must processes are required. Without a marketing mind-set you cannot develop corporate strategies.
Corporate ID/PR is critically important and must provide an over reaching consistency with the product messaging. I include it to differentiate from the Market Communication role. Corporate Identification, i.e. corporate branding is a very different set of skills than standard marketing communications. There are so many more customers for that type of message, employees, future employees, government, investors, users and buyers, C-suites at your customers, etc. The messaging becomes broader and less specific.
Strategic Marketing represents the general overall positioning that an entire portfolio of products or services will be built around. It will define the opportunities for Market, Products and Services, and Business Development. Strategic marketing is often performed as a staff function, committee or senior management. Many times, too often, an outside consulting firm performs this function.
Market Development creates a larger opportunity, for the products and services by facilitating a new understanding or behavior in your current targeted group of customers.
Portfolio Development creates more products and services that act synergistically to penetrate market segments within the define market.
Business Development or M&A activities create new markets or provide access to technologies that power product and service development.
Commercial Marketing is critical to the success of the continuum. It is where the activities turn toward selling, training and building broader relationship. It is where the needs of the many are converted to the needs of the few or the one.
Marketing Communications is the process by which, all the core messages are posed into a language, an image, a smell, and a feel all to trigger the desired emotional response from the customer. Once created these messages are then packed into different outlets or media types to reach out to the customers in an effective and efficient manner.
Field Activities, such as, sales, clinical support, referral development, national accounts, customer service, service, etc. has the task of taking the general messaging about the corporation, products and services and making it relevant to one customer at a time. Each customer interaction has to be nuanced.
Having a marketing mind-set will serve you well up and down the continuum. The tools vary a bit, but the basics of marketing are the same in each stage of the continuum. I encourage you to work the continuum until you find your best fit.
"Experience is what you get, right after you need it most."
Make it a great day,
Tim Walker
Tim Walker is the Principal consultant for The Experia Group. A small consulting firm that specializes in providing experience and expertise during critical device commercialization phases to increase the probability of success. www.theexperiagroup.com.
© 2015 The Experia Group, LLC