The Story
No story this time, sorry that I am breaking my format. As a reminder, the purpose of this blog is to share experiences and lessons from a 30-year (still going strong) career marketing Medical Devices. Not all of the lessons are directly applicable to every situation. At best I hope you gain a "golden nugget" of insight that will be helpful.
I received a phone call, after the pricing post, from a friend who asked me to layout my thinking on value proposition development. This is the response to that request.
Reminder about Value
Value is the Utility of the device divided by the cost of acquisition plus installation or other switching cost – total resource savings.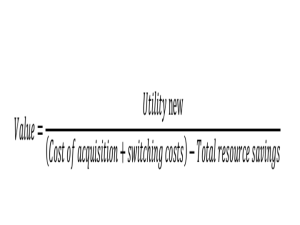 What is a Value Proposition?
The value proposition is the step between the Positioning Statement and Pricing in the Value Development Process. The diagram below is a little misleading in that it shows only one arrow.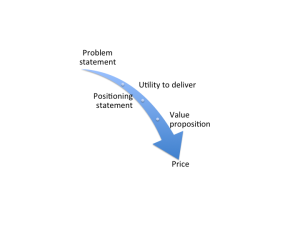 The truth is that each step is gone through multiple times. First as a "vision", then they are revised to a "hypothesis", then they are revised once data is received as a "preliminary" plan, then once again after verification data is collected and again as after pre-launch market evaluations (validation).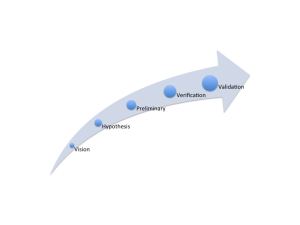 Yes, I am sorry, that is five sets of revisions. Fortunately, the bulk of the work is done early so each subsequent revision is a matter of changing numbers or the priority of the features.
If you find yourself re-writing the value proposition every time you revise it something is wrong with the original version.
The value proposition is the gross amount of economic benefit (expressed in words and numbers) that you will deliver to the user, the economic utility. As mentioned above, it goes through a number of progressively more "proven" phases of development.
How Should I Start Thinking About the Value Proposition of My New Device?
Suffice it to say, that the sources of value (utility) are not foreign or complex. Better, faster, cheaper, simpler, safer or access to new customer based revenue are the sources. Combining the sources of value is a great way to enhance your story.   What can be very complex is, understanding the puts and takes of significant changes in the cost structure of the therapy that your new device will be used with. Even tougher is, proving that the value will be realized in a specific hospital or practice.
How Do I Start?
Start by creating a resource utilization map for the procedure that your device is used with. Find a friendly hospital/physician combination and follow the patient, with their permission, and write down, time or cost for every action, supply or RX used, from the time they are moved to the procedure suite until they are released to home, include anything they are required to take home with them. Map it. Cost it. Sum it. This becomes the source for your "vision".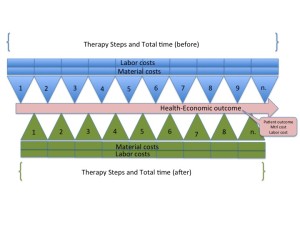 Ask yourself, with my new device, in a perfect world, how would the map change? Brainstorm the possible sources of value. There will be puts and takes (+, -). Pay particular attention to reductions is steps, reductions in meds, reductions in labor, and reductions in devices used. Also pay attention to, increases in safety, increases in clinical outcomes, increases in resource utilization, etc.
Look at the resources used in accomplishing the therapy the old way. Then inject your device into the therapy map. Measure (theoretic) change through modeling. Then work to verify and validate those changes.
Find ways of proving the value will be realized on a hospital-by-hospital basis.  Test the map with different types of hospitals, rural vs. urban, community vs. university, private vs governmental, teaching vs. non-teaching, large vs. small, etc. The most important ones will be those included in your customer profile or your segmentation and targeting.
A Good Tool
Now that you have the actual data, it is fairly simple to build an excel based cost savings calculator. Having a tool that the sale professional can use to walk the materials manager through the value story is a strong way to customize the story and make it more real for the manager.   If they give you their numbers to plug into a validated cost model it makes it real hard to argue the conclusions.
Material management processes within hospitals have become much more sophisticated over the past decade. They no longer will "buy" a good story. They need to see the health-economic data to believe. Realized increases in value are considered hard savings. Those unrealizable cost savings that you include in your story are considered soft savings. Hospitals will hold you accountable for whatever value increase that you claim/promise your product or service will deliver.
"Experience is what you get, right after you need it most."
Make it a great day,
Tim Walker
Tim Walker is the Principal consultant for The Experia Group. A small consulting firm that specializes in providing experience and expertise during critical device commercialization phases to increase the probability of success. www.theexperiagroup.com.
copyright 2015 The Experia Group, LLC