The Story
This Post may seem a little self-serving, it may be. But I celebrate everyone's success and feel compelled to sing out when I see inventors going down the wrong road.  To some, the issue we are going to discuss is a bit of a chicken and egg scenario. I don't think so. It is more like the birth of twins.
I have been working with a number of early-stage start-ups [5] over the last several years [3] and have witnessed 15 'funding pitches', or more. I have noticed a trend. Those that get funding have strong technology, strong teams, some traction, and have real solutions to real problems all woven into a story that shows how they will generate revenue (the business case).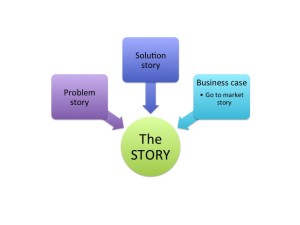 To an investor there must be a viable business case. The stronger the case, the more solid the 'go to market strategy', the less risk is perceived, the more likely they are to invest.
I watch as these inventors 'pitch' their ideas and never deliver the punch line. How will this solution specifically make money? The second thing that is missing is an integrated commercialization strategy [the reason to believe that the solution can be delivered to the target market].
Passion and technology are critical, but they are not enough. Crafting an effective commercialization strategy and packaging it into a clean, understandable story is an art. It can't be formula driven.   Yes, there are several outlines that the story can be organized into, but it is the connective tissue that links the story elements together. Humans make emotional decisions. The investors have to feel the value as much as calculate it.
There are a number of 'approaches' to telling your story. Lean start-ups, the Canvas, the five T's, etc. Many inventors get caught up in these approaches because they don't have formal business [marketing] training. They think that there is a formula for business success that is disconnected from their solution.
What Can They Do?
Developing that commercialization strategy needs to be done by a "professional" marketer. Yes, it will cost some money. As a scientist, clinician, inventor it is baked into your mind that if you "build it they will come". The investors that you are presenting to are smart enough to know that it is simply not going to be that easy.
As an inventor/entrepreneur you need to factor into the use of funds during the friends and family or angel rounds enough cash to hire a professional marketer to develop a commercialization strategy that is plausible. At the very least you need to have them scope the process that they would use to develop the story. A plan-to-a- plan. Find a good marketer and let them craft your story and determine the strongest go-to-market strategy.
 "Experience is what you get, right after you need it most."
Make it a great day,
Tim Walker
Tim Walker is the Principal consultant for The Experia Group. A small consulting firm that specializes in providing experience and expertise during critical device commercialization phases to increase the probability of success. www.theexperiagroup.com.