Regardless of how you package or communicate the Product Requirements for a new product there must be a customer input process that precedes finalizing of those requirements. Collecting the Voice Of Customer (VOC) is critical to the success of new product creation.
The Double Diamond Process™
Sometimes a picture is worth 10,000 words. The chart shown to the right is the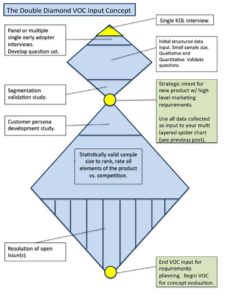 way I explain the approach to building that VOC into a fully validated set of requirements.
The key in the progression of confidence as you move down the double diamond. As you move through each section you gain the understanding and confidence in the data to which you need to apply your insight to.
Caution
If you want to assure the greatest chance of success don't skip a step or stop early.
"Experience is what you get, right after you need it most."
Make it a great day,
Tim Walker
Tim Walker is the Principal consultant for The Experia Group. A small consulting firm that specializes in providing experience and expertise during critical device commercialization phases to increase the probability of success. www.theexperiagroup.com. Contact The Experia Group for a free 30-minute consultation to determine if 30-years of experience can contribute to your success.