The Story
In my last two job assignments my role has been to build strong marketing teams. Both times there has been a nucleus of talent that were identified as "Product Managers". These product managers had a wide variety of knowledge, skills, education, background, and ability. Each manager was a valuable asset to the department; but only a handful had the classic marketing skills and education that one would seek in a prototypical Product or Marketing manager. The choices were pretty straight forward, 1) clean house and start from scratch, 2) build and develop the people you have on board already, 3) or some hybrid. In both cases there was pressure from above to selectively clean house.
 Building a Team
Great marketing professionals come in all types of personalities, backgrounds, and education. In general terms, you need a person who is creative and disciplined, analytical and decisive, service oriented and focused, listener and doer, in short you need a schizophrenic master of all things.
Another way of looking at it is, you need many, practical, aware, mature, talent rich, knowledge rich, persons who possess all the tools that you learn in MBA classes. Or, you need a collection of professionals all who have unique skills sets that when combined give you a capability that leads to success.
In my experience it is nearly impossible to find a number of prototypical marketers with which to build a team. Too many A-players can lead to disruptive environments. Institutional memory is too important to discount. In the medical device world, technical understanding, clinical understanding, customer relationships, and marketing skills all have great value. They are seldom present in any one person, at the start.
There are so many variables in building a team that it is almost impossible to account for them all, intellectually. Sometimes it just has to feel right. What I look for in a team member are the intangibles.
Positive attitude
Appropriate motivation
Ability and willingness to learn
Strong communications skills
Situational awareness
The tangible aspects of the team members are that they must bring significant value. The value typically manifests in a specific knowledge or experience base and are more than likely surrounding one or more of the following:
Technical knowledge
Clinical knowledge
Process skills
Marketing skills
Relationships
History
If your team members bring value and have all the intangibles (core skills) you are likely to be able to build a team that will be successful.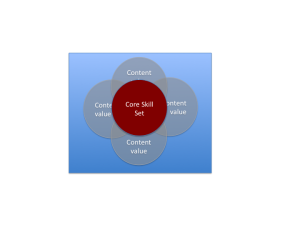 My advice
Set a timeline for yourself to evaluate the current team members in several different settings, say 90-180 days. Be intentional about that activity. Hold yourself accountable for personal de-briefing sessions. If at anytime you determine that a team member is lacking in one of the above five areas or does not bring significant content value, start planning an exit strategy for them.
 Watch out
Make sure that your direct supervisor understands what your approach will be and fully supports your approach. Evaluation over a 90-180 period might look like a lack of leadership or decisiveness. Don't make that mistake; keep your chain of command fully informed.
 My answer
A hybrid approach to building the initial team has been my choice every time. After the evaluation period it becomes pretty clear who will stay and who will go. It is not always clear when the change needs to happen. Do I think that cleaning house has a place, yes I do. Do I believe that building a team without any change to personnel is possible, yes.   If you do clean house be prepared for significant disruption and long nights.  If you don't clean house, be prepared for a slow, patient, teaching process.
In my career, I have only needed to make three (3) changes out of 60 inherited team members.  By choosing to develop team members and let them contribute the value they brought to the team I have accepted the responsibility to teach. Fortunately or unfortunately I have a teaching gene.
"Experience is what you get, right after you need it most."
Make it a great day,
Tim Walker
Tim Walker is the Principal consultant for The Experia Group. A small consulting firm that specializes in providing experience and expertise during critical device commercialization phases to increase the probability of success. www.theexperiagroup.com.