The Set Up
If you are in a large organization, usually you don't get an opportunity to be to creative about your go-to-market strategy. You probably have a process built into your quality system that defines the launch process. You have a well developed direct sales organization that is already in the field selling your other products.
If you are in a start-up, a recent acquisition, or on a "skunks work" project, then you may have more freedom to change the default channel.
If you have been in the industry for a while, it is only natural that you have engrained or default thoughts about your approach to building a channel; yet, there is nothing inherently wrong with using your default position.
Take a moment to answer the following questions:
Is the new product that you are readying for launch significantly similar to the previous products that drove the channel and process creation?
Is the enviornment exactly the same as it was during the last successful launch? Competition? Reimbursement? Regulations? Customer?
Are the objective(s) for the launch of the new product the same as all the previous launches? Timing? Growth? Revenue? Impact? Value? Price?
Is top management pleased with the results from the most recent product launch?
Has your company effectively launched a product that faces the same channel challenges as this one? Practice development? Market development? IDN contracting? Complex referral patterns? Capital sales? The need for service? A new type of value proposition?
If you answered YES to every question , then there is a good chance using the default position will be successful. If you answered NO to any ONE of the five questions, then it may be time to look at your default thinking or internal bias If you answered NO to more than ONE of the five questions, then you should think through your default position.
"What worked yesterday doesn't always work today" [or tomorrow] Elizabeth Gilbert.
The Story
I recently attended the Society of Interventional Radiology meeting in Vancouver, B.C. (SIR2016) and I saw many old friends there. One particular colleague and I had a rather deep and fun discussion about a decision that he made relating to the channel for a new product that he recently launched. Prior to the launch, we did not discuss his preference to launch a new product using a stocking distrubtor network within the US.  After experiencing quick initial sales growth in a very short period of time (1 year post launch), the growth crashed. His investors were very pleased as they saw quick, positive results; however, were now dissapointed. He wanted a second opinion on what went wrong.
What Went Wrong?
To diagnosis what went wrong with this launch, we need a significant amount of information. Read, "Conducting an Autopsy for Medical Device Launches that are Heading South" a previous blog posting.   Skipping a head to save time, the issues fall into one of six broad headings: product, price, promotion, place, customer, or competitor.
The issue with this launch was the channel decision, and contributing to that, an un-realizable objective. We will explore what a good Launch Objective looks like in a future post.
This post identifies some of the key elements that need to be reviewed when working through the critical questiosn of: which channel is used, and what is the right channel for your new product. I have created a worksheet table that I use to think through channel selection. The components that comprise the table are listed below with brief descriptions.
Control – The more discipline that is required in message adherence, process and/or targeting of the selling organization the greater the need for direct control
Coverage required – This is a tricky one. Coverage requirements are driven by many variables: speed, geographical dispersion of the target customers, growth requirements, etc.  This variable is very tied to the revenue objective.
Educational challenge – The more foreign the concepts are to the channel, the more education is required.
Specificity of customer targeting – The fewer customers that fit the target profile, the more lazer-like your focus must be. More like firing a rifle as opposed to a shotgun.
Device complexity – Complex devices require a mastery by the channel such that the customer doesn't perceive them as complex.
Clinical success – It goes without saying that repeat sales are a requirement, early clinical success is critical to ongoing sales.
Validated messaging – The more sure you are of the messaging, the more structured and perscriptive you can be in the sales training.
Sales-cycle dynamics – Long, complex, sales processes that involve multiple influencers and are required to go to value analysis committees require a significant investment by the TM.
Price point – The higher the price, the more trust is involved in the relationship.
Type of selling style – Concept selling, missionary selling, F&B selling, commodity selling all require different skill sets.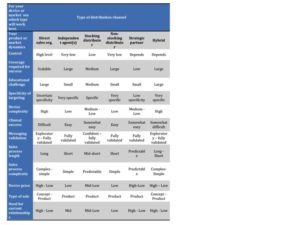 Tap on chart to enlarge
Each of the above characteristics of the product or market aligns better with one of the seven channels.
What are the possible channels for US marketing of a Medical Device?
Direct sales
e-commerce
Independent representative (agent)
Stocking distributors
Non-stocking distributors
Strategic partner(s)
Hybrid/combination
For our case study, the description of the market and product are as follows:
Very simple product
Very simple procedure
Utility is realized by three stakeholders
Product ordered by only one stakeholder and they receive the least utility
An emerging therapy
Not too difficult to achieve clinical or technical success for one of the influencer (learning curve is three supervised uses)
Proven to be difficult to get repeatable results for those who receive the most direct utility
Multiple influencers with above 20% influence
Device cost in excess of $800.00 USD
Reimbursement is available but does not cover the use of two devices
Maximum single user experience in a 12 month period is current 10 patients
Concept sale required
Messaging is evolving
Long sales cycle (up to 120 days)
Back to the Story
So, what happened in my friends launch scenerio? He focused on sales and not usage of the product. He filled the stocking distributors channel and showed quick success. The stocking distributors were scoring a bunch of initial usages.   He labeled them the "one and dones". The problem was that the initial users were not experiencing clinical success with the product.
So backing up in time, if we ask what was the nature of the challenge in selecting the "Best Fit" channel it was that the Marketing Objective had a revenue target that was, in the mind of my friend, unattainable without 20 direct sales persons. He had been given a budget for channel development. The budget and the needed coverage were at odds. Instead of challenging the objective he went for the largest coverage area he could within the budget he had been given. A stocking distributor model. He rationalized away that this product was a concept sale with a long and complex sales process. The messaging wasn't validated. The targeting was not specific and it was difficult to achieve clinical success all the time.
Given this scenario, the obvious design was a Direct Selling organization. The time to have your investors embrace this is before you execute an alternative approach.  Minimally, they have to hear your reasons for one channel over another. If they still direct you to use a lower cost channel model, then lower the forecast. Often, it is best to set up the alternatives before hand. For example: " If we go Direct with this number of TMs, our revenue curve is predicted to look like this". Or, "If we go with a Stocking Distributor network then the revenue curve will look like this".
Had we used the decision template, we would have understood that even though this was a simple product the other variables combined to require a Direct Sales model.
Hint: it cost $250,000 to bring on and train a Direct sales person. It takes even good TM's 3-6 months to be effective in a territory with a new product.
My friend went back to the Board of Directors and gave them a complete assessment of the state of the sales process using factual data. They authorized him to create a direct sales organization. Time will tell if they have enough money to make the change over. Strange how we can always afford to do things over but never seem to have enough resource to do it right the first time.
Lessons
There is always time to think things through.
Use a structured thought process to avoid bias and default thinking.
Choose the right metrics to monitor your early success.
The tough discussions need to happen early.
"Experience is what you get, right after you need it most."
Make it a great day,
Tim Walker
Tim Walker is the Principal consultant for The Experia Group. A small consulting firm that specializes in providing experience and expertise during critical device commercialization phases to increase the probability of success. www.theexperiagroup.com. Contact The Experia Group for a free 30-minute consultation to determine if 30-years of experience can contribute to your success.
© 2016, The Experia Group, LLC