Set up
Trade show attendance is a tactic, a tool, not a strategy or objective. They have a habit of developing a life of their own due to the expense and time investment they require. Additionally, it is easy to fall into a pattern of planning for and attending the same congresses year after year without even considering if they are achieving their objective.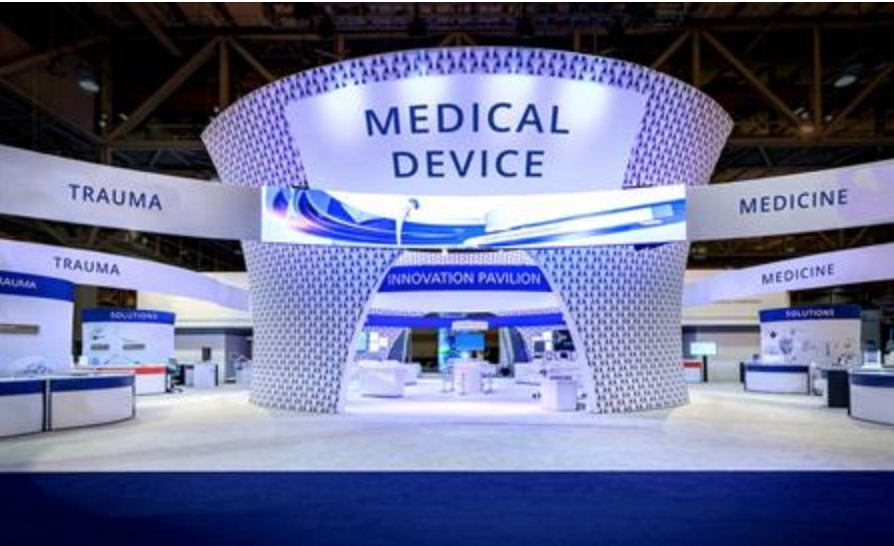 What if?
As trade shows are significant events, it is also easy to use as a launch mechanism for new products. I would propose that the new product launch plan become an 18-month campaign, of which, one, two, or three congresses might be a part of the campaign.
The tradeshow can be considered the centerpiece or the anchor, but attending a show is not a goal or objective onto itself.
To truly optimize and make a step function change in your thinking, consider congresses or tradeshow as the highlight of the process by which you are building a community of customers. The tradeshow serves as a celebration, an acknowledgment, a recruiting tool, and a prospecting tool for future community members, and of course, a lead generation tool for the sales organization.
The launch plan/campaign can be a story. With all good stories, there is a prologue, introductions, body, conclusions, and epilogue. With all the proper caveats and warnings that follow along with regulatory listings, clearance, and approvals regarding the promotion of Medical Devices, great care should be taken.
Another thought construct to consider is that every new product launch is an opportunity for customer engagement; you could even think about it as a recruiting tool for your clinician community.
Story
Timing
New Product Launch Campaign
Objective
Prologue
6 months prior to launch
Targeting
Create a target persona

Identify KOLs

Introduction
6-1 month before launch
Pre-approval channel preparation

(Trade show activities)

Recruit targeted KOLs at a national, regional and local level.
Collect feedback on the problem statement from the community that you created in the KOL world.
Collect proof that there is a problem.
 Frame the problem's impact on patient outcomes.
 Frame the economic impact on the institution of the problem.
Recruit for pre and/or post-market clinical trials

Main body
Once FDA approval/clearance is received

  Awareness (Trade show activities)
Customer Contact(Trade show activities)
Engagement (Trade show activities)
Sales process (Trade show activities)
Evaluation

Social media (SM) campaign
Leads from SM or Digital awareness
Tradeshows leads
Document and communicate the buzz
 Sell

Ending
Market and Sales execution

VAC, New Product committee approval

Document and communicate success stories
Package the testimonials
Collect product improvement
Conduct post-market studies

Epilogue
Customer service monitoring
Successful integration into the standard workflow

Post-market surveillance
 Constantly provide evidence that the buyers made the right choice (Tradeshow activities)
A Quick Review of Customer Engagements 
Customer engagement is a two-way equal value exchange of information, experiences, desires, hopes, and dreams that leads to a more in-depth professional relationship between the two parties.
The engagement events can be:
Challenge
Can you see the potential in having all these touchpoints identified?
Can you see the power in having collateral to support each step specifically?
Can you see how a tradeshow is a component of a grander process?
Can you see how thinking of a trade show as a media channel gives you a new perspective?
Can you see how tying the trade show into an entire campaign makes funding it easier?
Can you see how laying out an 18-month plan builds flexibility into the calendar, making you proactively prepared for regulatory delays?
Lesson(s)
It is ok to think differently about trade show attendance
Build metrics and mini-goals into every step
Follow-through is critical, discipline
"Experience is what you get, right after you needed it most."
Make it a great day!
Tim Walker
Tim Walker is the Principal Consultant for The Experia Group. A small consulting firm that specializes in providing experience and expertise during critical device commercialization phases to increase the probability of success.
One-on-one or team coaching is available.
www.theexperiagroup.com. Contact The Experia® Group for a free 30-minute consultation to determine if 30-years of experience can contribute to your success. [email protected].
© 2020, The Experia Group, LLC